Top 10 Chip Flavors of All Time
Hi, my name is Alexander and I'm a junk food junkie. I've traveled the world and experienced many strange flavors of potato chips from gyoza-flavored in Japan to Diablo-flavored in Mexico. Here are my top ten favorite flavors:
10.) French consomme - Japan
These chips sound like they would be the worst thing ever, but they are nothing short of amazing. The taste is difficult to describe. Having never actually eaten French consomme, I can't comment on the accuracy of the flavor, but I can tell you it's salty, full of MSG, and delicious!
9.) Maui sweet onion (Frito Lays) - Hawaii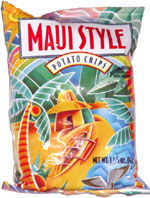 These chips are only available in Hawaii and are far superior to the ones that you can get on the US mainland. Granted, I haven't done a side-by-side taste test and it is entirely possible that the warm, tropical air and fruity drinks swayed my opinion, but nevertheless, these chips kick ass.
8.) Maduros plantain chips(The Corn Party) - Costa Rica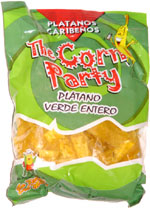 The photo actually is of the green plantain chips, which are amazing, but on my last trip to Costa Rica, I discovered the maduros flavor. Maduros are ripe plantains that are much sweeter than the green ones, adding up to a near-orgasmic starchy treat experience. (No, I have no idea why the brand is called Corn Party when they only make plantains. I choose not to question it, but to accept and embrace it in all its tasty goodness.)
7.) Hot Wings and Blue Cheese (Doritos) - USA
I'm usually pretty uninspired by Doritos flavors, and they seem to get rid of all the good ones anyway (pepper jack, anyone?) but these chips are the bomb! Again, since I'm a vegetarian, I look to chemically-altered junk food for my meaty-tasting treats and this definitely does the trick. It really tastes like hot wings and blue cheese (not bleu cheese, mind you).
6.) Honey Mustard (Tim's Cascade) - Pacific Northwest
Tim's Cascade is probably my favorite brand of chips on the planet. I can down even a bag of plain ones in mere seconds. However, their honey mustard chips are, hands down, my favorite Tim's flavor ever (except for that one summer when they had limited edition ketchup chips!).
5.) Honey and Garlic (Miss Vickie's) - Canada
In my search for a photo of these chips, I found a site that sells them for $15.99 for 4 bags plus an additional $17.99 for shipping. Seeing as these are some of the most amazing potato products ever to grace my eager tongue with their existence, I'm almost considering getting some, despite the fact that I pay less than that for electricity some months.
4.) Nacho Italiano (Doritos) - Canada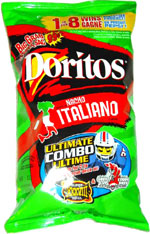 Another treat from the Great White North! I don't think they make these anymore, but they were reminiscent of the Pizzarias chips that were produced in the early '90s. Speaking of Pizzarias, click
here
to sign a petition to bring them back!
3.) Bacon ranch (Pringles) - USA

I had to sneak one more domestic favorite in here, and these are a doozy! If I were to think of the two best things in the world to combine together to form what would possibly be the worst-for-me treat ever, it would be bacon and mayonnaise. Ranch, however, is a close relative to mayonnaise and these chips do the trick. They really taste just like ranch dressing and bacon! Mr. Pringle don't lie!
2.) Pizzerolas (Doritos) - Mexico
I bought these when I was in Mexico hoping that they would be similar to the Nacho Italiano Doritos I had eaten in Canada, but I was pleasantly surprised to find out that they actually tasted
exactly like the Mexican pizza at Taco Bell
. I don't quite understand, as the picture on the bag specifically denotes that they are pepperoni pizza, but I'm happy nevertheless.
1.) Ketchup (any brand) - Canada
My personal favorite brand of ketchup chips are the ones from Zeller's, as they are the ketchupiest, but any kind will do. Once, my ex and I actually made the five-hour drive to the Canadian border just to get ketchup chips. Coming back into the states, we were stopped by the border police, who asked us why we had come into Canada. We told the truth, and naturally the woman didn't believe us. We rolled down the back window, displaying a back seat literally filled with grocery bags full of ketchup chips. She threatened to have the car searched, but her superior just giggled at us and waved us through. Ketchup chips win again!
What do you all think? What's your favorite flavor?
You'll
♥
Loading related posts from sailthru...